Welcome to Sirmouriawaaz.com
 Welcome to all Sirmouri speaking people who visit this website. Hope u all will be benefitted through it. The primary aim to create this web site is to let the people may know or hear the Scripture (Bible) in their own language. This website contains the biblical stories, dramas, songs, poems, social contents (awareness), vedios, dictionaries, about Sirmour and all. This site is made first time in Sirmouri language therefore visit it freequently in order to listen or watch in your own (heart) language.  May our good God bless u all.
This is Free Sirmouri Christian Resources Website www.sirmouriawaaz.in
The aim is to avail all the Christian resources in Sirmouri totally Free.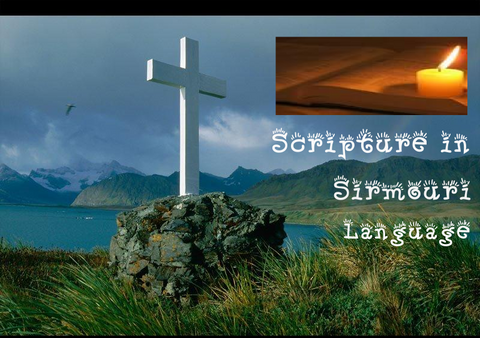 After this I looked and there before me was a great multitude that no one could count, from every nation, tribe, people and language, standing before the throne and in front of the Lamb. They were wearing white robes and were holding palm branches in their hands.  And they cried out in a loud voice: "Salvation belongs to our God, who sits on the throne, and to the Lamb."  All the angels were standing around the throne and around the elders and the four living creatures. They fell down on their faces before the throne and worshiped God. (Rev. 7:9)  
 Sirmour is the most south-eastern district of Himachal Pradesh, India. It is largely mountainous and rural, with 90% of its population living in villages. It includes the towns of Nahan (its capital), as well as the Shivalik Fossil Park at Suketi, where fossils of over 85 million years old have been found.
There are six  tehsils  in this district, namely  Nahan ,  Renuka ,  Shillai , Rajgarh, Pachhad and  Paonta Sahib .
Agriculture is the backbone of economy here. Farmers of Sirmour produce potato and ginger. Sirmour is also known for its good quality of peach that comes from the Rajgarh region which is also called the Peach Bowl. Sirmour is known for growing tons of fruits every year. Dhaula Kuan near Paonta Sahib is known for its Govt operated fruit research centre. Sirmour district is significantly capable of growing both Apple and Mangos on its land. Tomato is also becoming choice for farmers these days. Village Lana-cheta is known for its fertile land and farmers here grow grains as first option.
The  Giri River  divides the district into two almost-equal parts: Giripar and Giriwar.
Please do send us a copy of your Book/article in PDF, Songs/ audio or vidio in order to publish it online in your name and you will be the copyright owner of the material that you provide. 
Please do like our facebook page.
Lift us in your Prayer 
Download Free Pahari Christian Bible Stories,Songs,Poems,Dramas etc.